STARCLOTH HIRE
Click here for more information on LED starcloths
Our LED - Light Emitting Diode - Starcloths were launched at 2003's RSVP which resulted in enormous feedback. These starcloths offer a sharper, whiter light than traditional pea bulb starcloths. The luminaires are virtually indestructible and powered via 12 Volt packs. Power consumption is such that very large quantities can be run from our effects controllers. The Blue/White colour temperature is ideal for Film and TV.

available from Acre Jean for hire or sale
Click on the links for more information
Use our online enquiry service
or call us on
020 8877 3211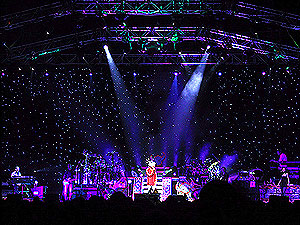 STARCLOTH HIRE
Click here for more information on Fibre Optic starcloths
Included in the range of Starcloths available from Acre Jean, our Fibre Optic starcloths have received worldwide commendation. These cloths are used for a variety of effects and displays. There is the option of colour or twinkle 150 Watt Halogen light sources. A near field / far field effect is achieved by 3 diameters of optic. This is the ultimate star field cloth. For the ultimate effect we can supply you with our High End Color Pro dmx light source. This industry standard unit is fully programmable for infinite colour mixing and effects. Instruments are fitted with 250W MSD lamps. All units are supplied with double road case and full RCD distro.
In the manufacture of our starcloths we only use high quality fibre optic harnesses supplied by Universal Fibre Optics.
Visit www.universal-fibre-optics.com for other specialised applications of fibre optics.

Fibre Optic Starcloths now available from Acre Jean for hire or sale
Click on the links for more information
Use our online enquiry service
or call us on
020 8877 3211